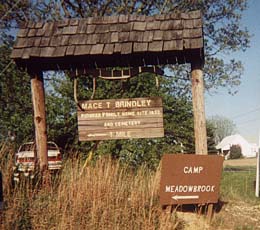 Marker on the corner of Alabama Highway 69 and County Road 747 in Simcoe. The sign reads "Mace T. Brindley Pioneer Family Home Site 1832 and Cemetery 1 mile". This cemetery is located about a mile north Hwy. 69, on County Road 747. It is known that it was the first cemetery in the area, established after 1819, when Mace moved to the Mountain.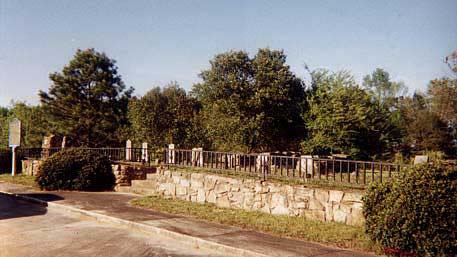 History, newspaper articles, and family stories can account for only 9 of the 15 graves within the rock and wrought iron fence. Mace, his wife Nancy, and Mace, Jr., are side by side. Mace, Jr. died at age 27, cause unknown to us today.

The only double stone there, marks the graves of Mary W.M. "Molly" almost 4, and her brother, John, 2 years old, who died one day apart in 1863 from Typhoid Fever. They were the only children of Mace's son, Asa Benton. Then there is John "Hanby", Mace's 4th child, who, at age 15 died as the result of a fall from his horse.

Little Nancy Dunn, who died just before her 4th birthday, was the daughter of Phoebe Lavina Brindley Dunn, Mace's oldest daughter, and is buried next to her sister, also only 4 years old, Manila Josephine Dunn. The children's father, William J. Dunn, who was a Mason, is buried beside them.

We know that 4 children of early German immigrants are buried there, although only one of the 4 graves is marked: Julia Linderman. There are the 2 Schnitker children, also, but only sandstone rocks mark their presence, and there are 3 graves remaining which may never be identified.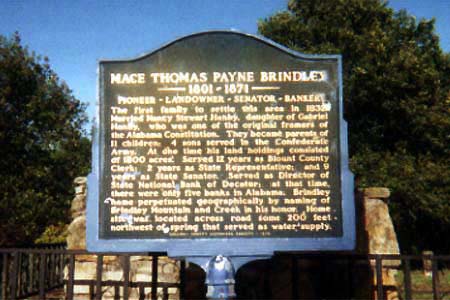 State Historical Marker placed at the cemetery.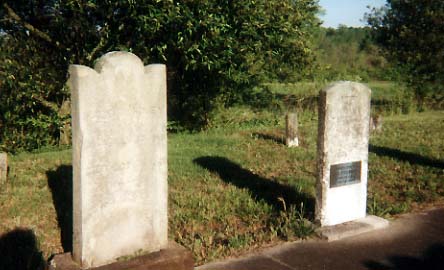 Nancy S. Brindley and Mace T.P. Brindley's grave stones.
MACE T. P. BRINDLEY'S FAMILY CEMETERY